Moscow Music Week - Sept. 2 to Sept. 5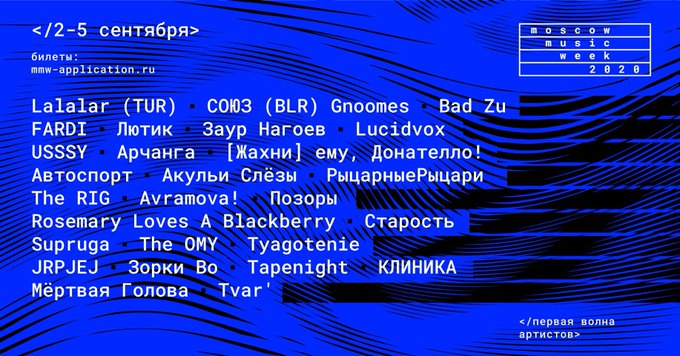 Moscow Music Week will take place soon and since I saw Gnoomes on the list, it only makes sense to post a link to their work and work of those playing the fest. Lets gooooooooo / поехали...
Bad Zu - wrong ethnic music
Lucidvox - four ladies playing psychedelic music with a bit of krautrock mixed in
uSSSy - sure to please to fans of experimental rock, Middle Eastern melodies, world music rhythms, and noise rock! - canthisevenbecalledmusic
[Жахни Ему], Донателло! - aka ВЕД - emo-punk band from Moscow
Автоспорт - band from Moscow
Акульи Слёзы - dream-pop from Ufa
The Rig (Russian Improv Group) - "bastard mix" of klezmer, improv and urban jazz.
(Richard Foster, Louder Than War)
2/2 
Avramova! - file under: electronic indie pop synthfunk synthpop synthwave techno
Позоры -  Feminism, punk, noise-rock, industrial etc.
Rosemary Loves a Blackberry - rosemary loves a blackberry is a multi genre project, focused on music and music-related research without any formal or stylistic limitations.
Supruga - 4-piece band from the Dark Zhiguli Region.
The OMY - Though being inclined to psychedelic rock, The OMY loves to experiment with its sound in a very unpredictable way for the listener both in live performs and records.
Tyagotenie - Inside out, deeper inside
JRPJEJ - from Nalchik. File under: folk choral circassian
Зорки Во - File under: folk home recording lo-fi pantheism psychedelic Moscow
Tapenight - POST-POP inside...
Мёртвая Голова - from Yaroslavl. File under: rock avant-garde garage neopsychedelia post-punk shoegaze